A Spectacular New-Generation Library in the Heart of Manhattan
June 01, 2021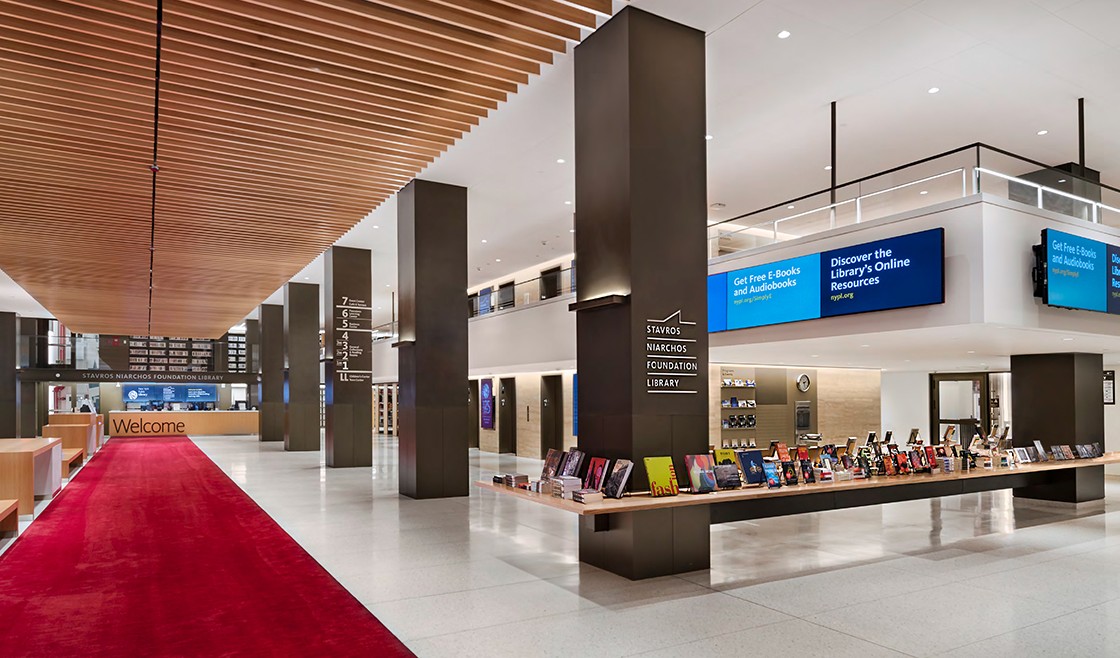 The Stavros Niarchos Foundation Library (SNFL) is New York's new central circulating library, designed by Dutch architecture firm
Mecanoo
in collaboration with Beyer Blinder Belle. Built within the 1914 shell and steel frame of the Mid-Manhattan Library which it replaces, the 180,000-square foot building is topped with a spectacular angular roof and public rooftop amenities to make a new urban icon on Fifth Avenue.
SNFL is a new-generation library for all New Yorkers, with special facilities for young users, adult learning, and business. It offers the perfect contemporary complement to NYPL's world-famous Stephen A. Schwarzman Building (SASB), located across Fifth Avenue from SNFL. SASB opened in 1911, designed by architects Carrère & Hastings in a glorious Beaux-Art style, and receives over 1.7 million visits a year as the mothership of NYPL's reference collections.
Mecanoo and Beyer Blinder Belle's concept was to leverage the synergy of SNFL and SASB and bring them together as NYPL's Midtown Campus. New features at SNFL reflect this harmony between the buildings: long tables that recall the impressive scale of those in SASB's Rose Main Reading Room, ceiling artwork in the Long Room that echoes the neo-classical paintings set in SASB's ceilings, and the use of classic materials including natural stone, terrazzo, and oak.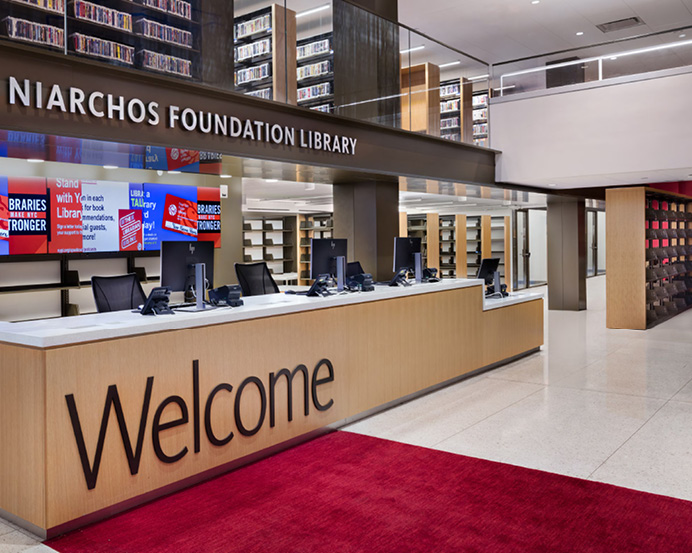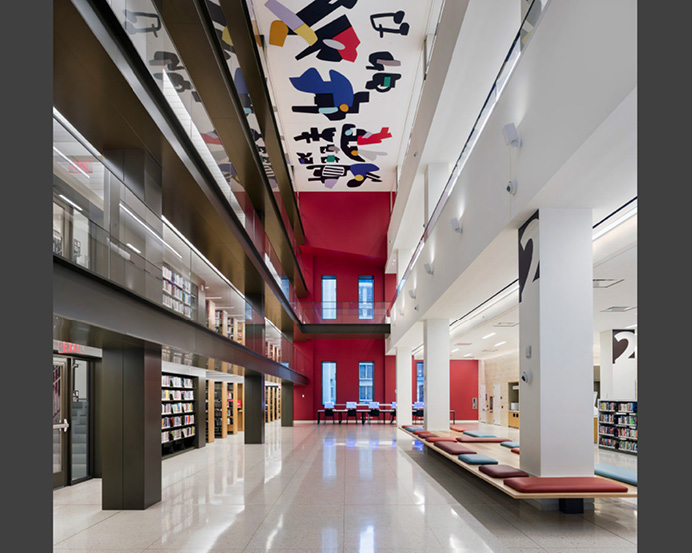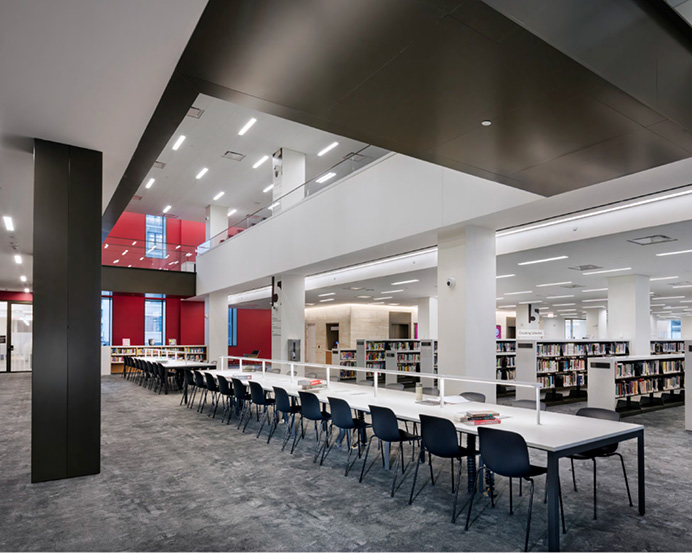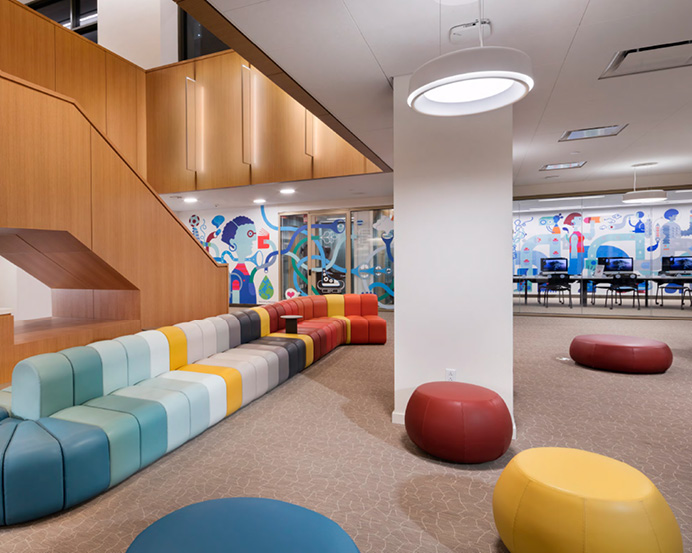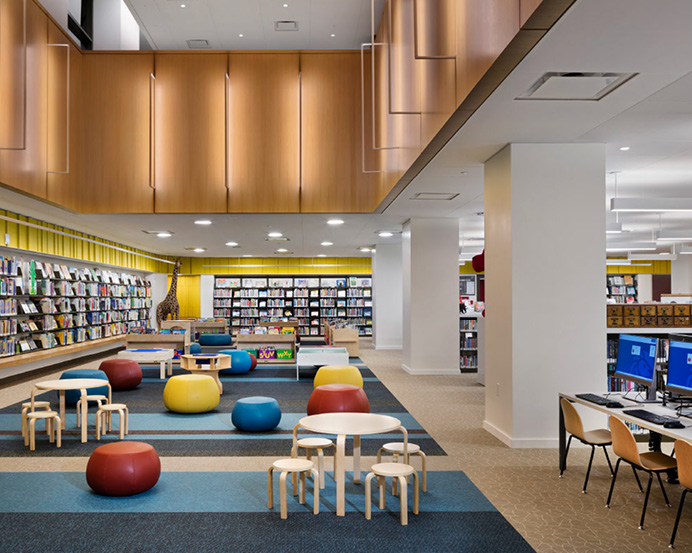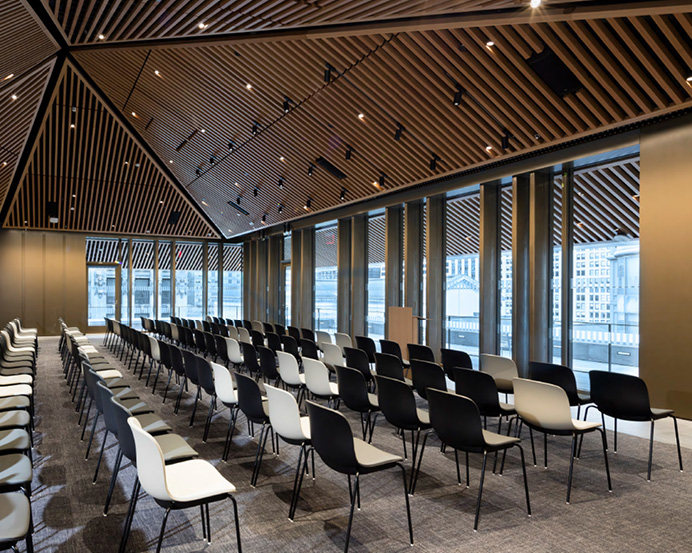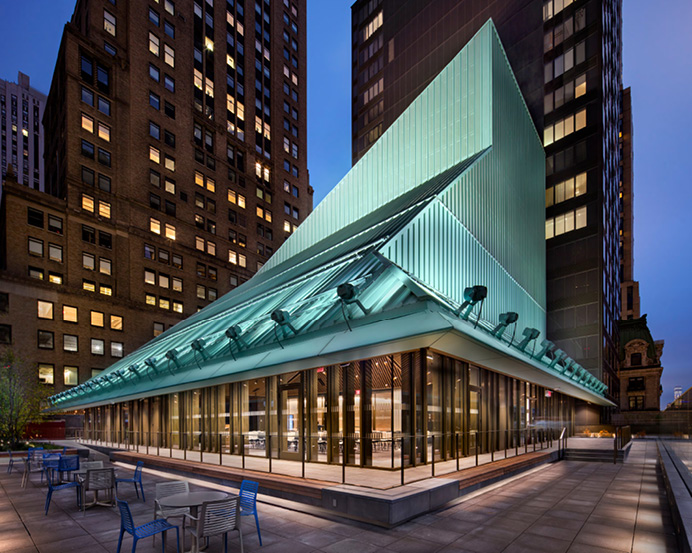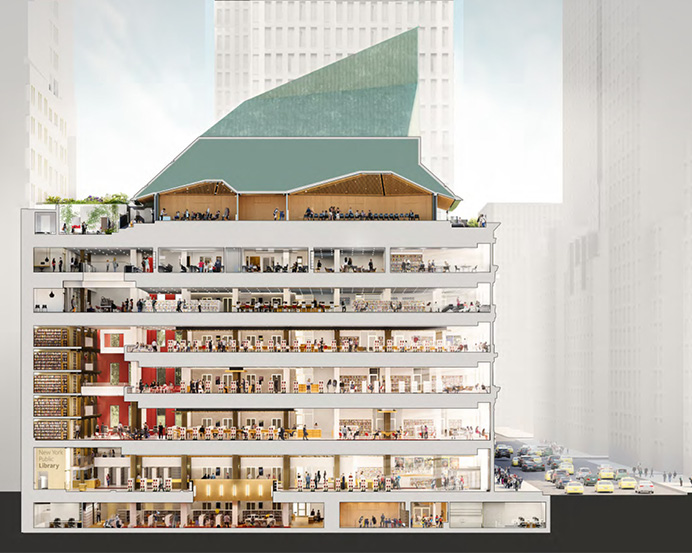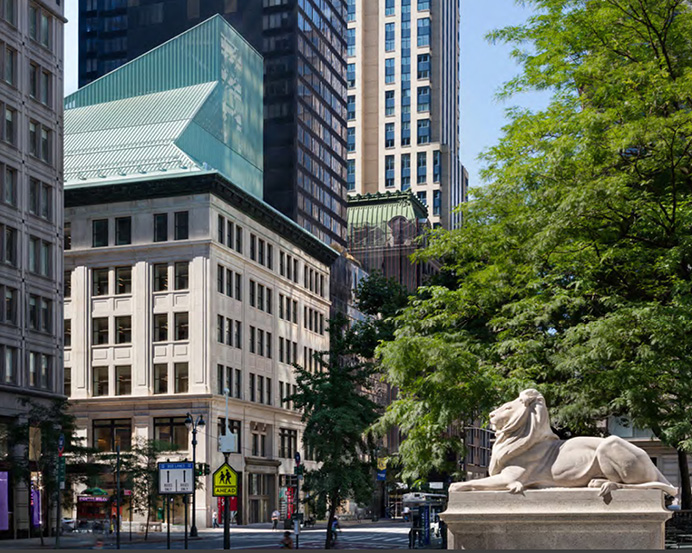 Photos courtesy of NYPL, by John Bartelstone. Drawing by Mecanoo with Beyer Blinder Belle.
SNFL's ground floor is arranged around an internal street that runs beneath a floating linear canopy of wood beams, from the Fifth Avenue entrance to the welcome desks. Located on one side are elevators, stairs, and a mezzanine balcony. On the other side, a rectangular opening in the floorplate reveals the lower ground floor, which houses a Children's Library and Teen Center.
SNFL has an annual circulation of two million items, and this sheer volume generates challenges in access, organization, and storage. The design solution offers more space, more books, more seats, and lower shelves. The heart of the library is the Long Room, a new space that truly brings the idea of a library into the old structure, which was originally designed as a department store. A triple height void has been cut into the building's steel frame, rising 85 feet from the second story to a vibrant new abstract ceiling artwork by Hayal Pozanti.
This dramatic linear atrium separates three floors of flexible, daylit reading areas on one side and five levels of book stacks on the other, a creative and efficient solution to balancing the need for a browsable collection and the desire for more public reading room space. Above the Long Room, the fifth and sixth floors host the Business Center and the Pasculano Learning Center facilities.
SNFL's elevators and stairs continue to the seventh floor, which is built at the original building's roof level. This new floor has pitched wood slat ceilings and contains a flexible 268-occupant conference and event center. An L-shaped roof terrace runs above the 40th Street and Fifth Avenue facades and includes a roof garden and an adjacent indoor café. It is Manhattan's only free, publicly-accessible roof terrace and offers staggering Midtown views, including across Fifth Avenue to the Stephen A. Schwarzman Building and surrounding skyscrapers.
Mecanoo and Beyer Blinder Belle have collaborated on programming and design across both locations from start to finish. Mecanoo led the design stages and Beyer Blinder Belle led the historic preservation, acted as architect of record, and designed the environmental graphics.
Below is a selection of recent press coverage:
ABC7, NYPL Midtown branch reopens in Manhattan with new look following renovation, By Eyewitness News
Archinect, The new Stavros Niarchos Foundation Library opens in the heart of Midtown Manhattan, By Josh Niland
The Architect's Newspaper, The Stavros Niarchos Foundation Library reopens in Midtown Manhattan, By Matt Hickman
The Architect's Newspaper, Mecanoo and Beyer Blinder Belle's transformation of the Mid-Manhattan Library looks easy, By Anthony Paletta
Architectural Record, Mecanoo Revamps New York City's Midtown Library, By Laura Raskin
Bloomberg CityLab, Dead Department Stores Reborn as Schools, Libraries, and Offices, By Alexandra Lange
Dezeen, Aluminium "wizard hat" tops New York library renovation by Mecanoo, By Bianca Pichler
domus, A new civic infrastructure in the heart of Manhattan by Mecanoo, By Bianca Pichler
In the News: AIA New York, NYPL Cuts Ribbon on Mecanoo's Stavros Niarchos Foundation Library, By Linda G. Miller
Library Journal, A Fresh Start at NYPL, By Meredith Schwartz
New York Magazine, Look! Books! The Tired Old Mid-Manhattan Library Gets a Crisp New Identity, By Justin Davidson
New York Post, New Midtown library is exactly what NYC needs after pandemic, By Nicole Gelinas
New York Times, A Glowing Shrine to the Printed Word, By James Russell
New York Times, 10 Works of Art That Evaded the Algorithm This Year, By Jason Farago
New York YIMBY, YIMBY Explores The Stavros Niarchos Foundation Library In Midtown, Manhattan, By Michael Young
Wall Street Journal, A Catalog of Delightful Details, By Michael J. Lewis
Wall Street Journal, The Best Architecture of 2021: Constraints That Set Creativity Free, By Michael J. Lewis
World-Architects, Renovated NYPL Reopens, By John Hill
World Architecture News, Design collaboration creates new central circulating library in NY, By Georgina Johnston
Print Story
More Stories About
Search by Keyword