Harvard in Full Swing
September 08, 2014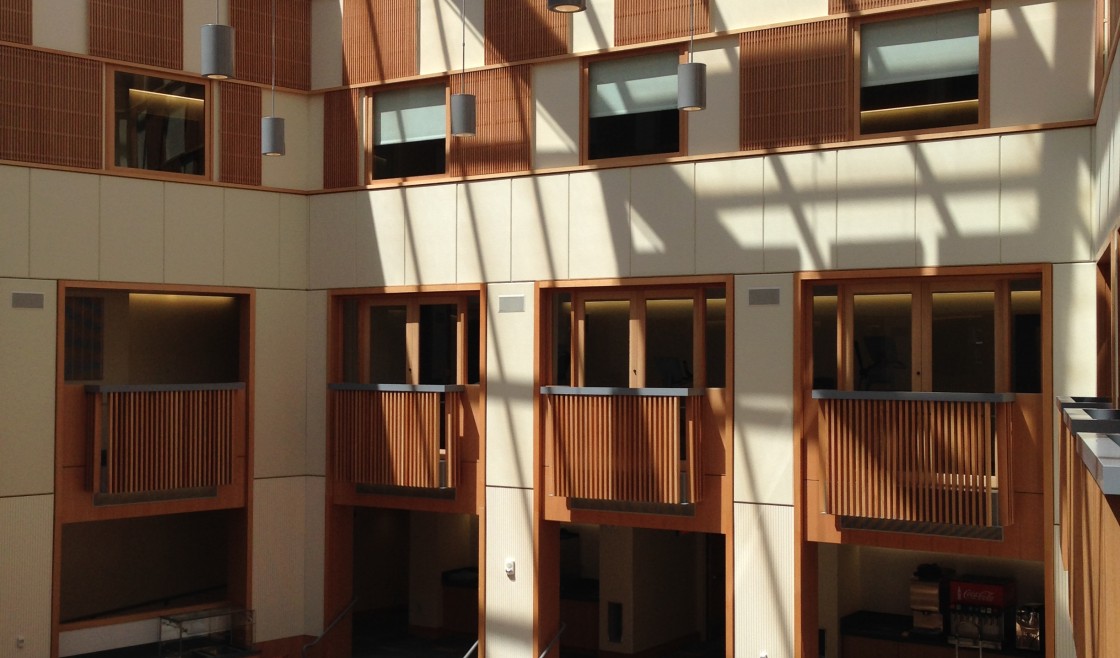 An article in the Harvard Gazette offers a sneak peak inside the newly designed swing space for Harvard's House Renewal and an article in the Harvard Crimson interviewed student residents of Dunster House soon after they were introduced to their swing year housing. As part of the program, BBB designed spaces to create a home away from home for students during their swing year. The design includes interiors services including layouts, furniture, finishes, fixtures and fabrics, as well as artwork, graphics, and donor signage for new student bedrooms, classrooms, and common spaces including dining facilities, gyms, libraries, music rooms, and multi-function spaces.
"House Renewal in 'Full Swing'"
Harvard Gazette
By: Colin Manning, Harvard correspondent
"When the former Inn at Harvard is fully transformed to accommodate students from Dunster (and, in the future, other Houses undergoing renewal), it will be a home away from the House, with familiar features including a dining hall, lounge, junior and senior common rooms, a seminar room, and music practice spaces.

The impending renovation of Dunster House, the first full House to undergo renewal, is set to begin immediately after Commencement and last 15 months. The Dunster community will be relocated during the next academic year to a series of swing facilities, with its hub at the former hotel in Harvard Square."
The Harvard Crimson followed up with student residents of Dunster House at the beginning of the school year, soon after they were introduced to their home away from home. Students praised the space as one that could preserve the tight-knit community among residents, despite the temporary housing situation.
"Dunster Students Praise Renovated Inn"
The Harvard Crimson
By Nikki D. Erlick and Brianna D. MacGregor, Crimson staff writers
As scaffolding rises over Dunster House's iconic tower, members of the House community praised the renovated Inn at Harvard, which is serving as the center for House life during the renewal process.

The former Inn—rechristened "Dunster Headquarters" by House staff and students—houses students in double and single bedrooms and features House amenities such as a dining hall, music practice rooms, meeting spaces, and common rooms equipped with couches and televisions. After the renovation of Dunster House, the building will continue to serve as a residential and social hub for each House remodeled over the course of the the College's decade-long House Renewal project.

A week into life at the Inn, members of the Dunster community said they are pleased with the quality of their temporary housing and the recently-opened dining hall.

"It's completely not what you'd think of if you think of 'swing housing,'" said Alex Y. T. Yang '17, a Dunster resident living in the Inn. "I honestly think this is the best housing on campus."
Print Story
More Stories About
Search by Keyword