A New Urban Agenda?
November 21, 2016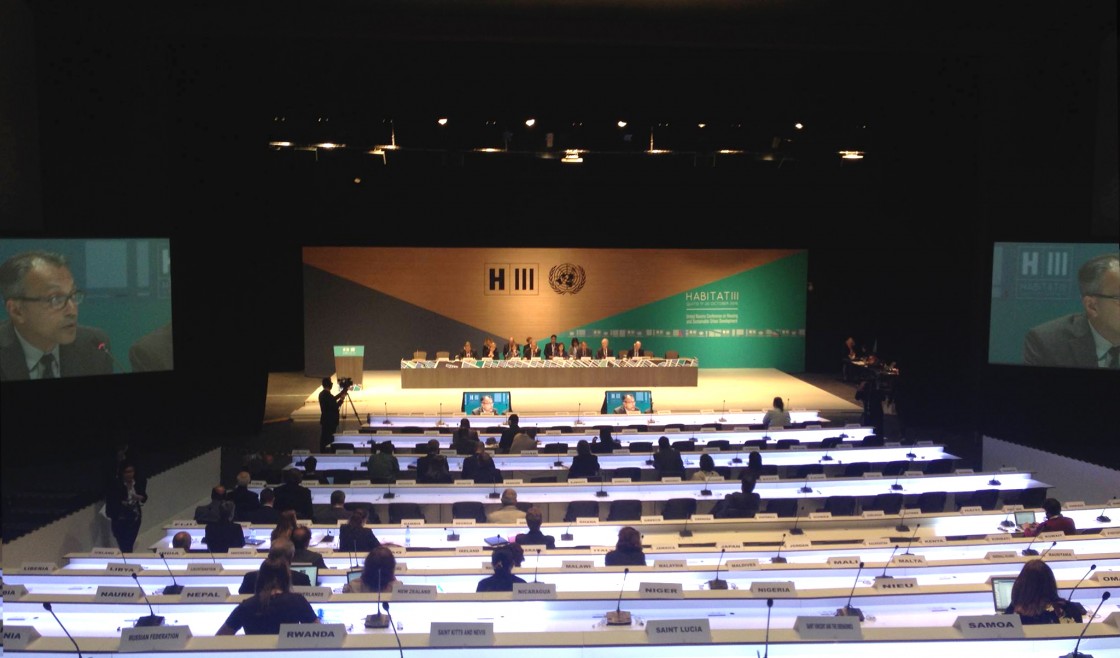 From October 17-20, nearly 40,000 people from 193 different countries gathered in Quito Ecuador at the Habitat III conference to discuss implementation of the New Urban Agenda (NUA).
The New Urban Agenda is a document written by the United Nations, working side-by-side with major cities and urban practitioners over the past two years. It is designed to be a roadmap guiding future sustainable urban growth. Habitat is considered to be the world's most important meeting about urbanism, and is held once every 20 years. This year in Quito, more than 1,000 events were organized inside the conference venue by non-governmental and community groups, addressing a criticism that past Habitat conferences (Habitat I in Vancouver in 1976 and Habitat II in Istanbul in 1996) lacked civil society involvement.
I was honored to participate in one of these events, The World Stage, organized by New City. This was a publicly accessible exhibition stage where practitioners explored ways to increase resilience and equality through planning and design in cities around the world. Alongside 22 other inspiring colleagues, I presented our work at Beyer Blinder Belle, showcasing projects that show how we design for social inclusivity and environmental benefit, both today and throughout our firm's history.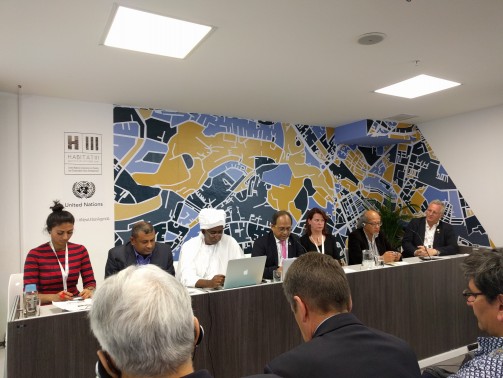 But what does the New Urban Agenda mean to us – as architects and planners who design and preserve some of the world's most beloved urban spaces? Both the American Planning Association (APA) and the American Institute of Architects (AIA) were members of the United States delegation to the United Nations Habitat III conference in Quito. This means that for the past two years they served on advisory committees, helping to shape the New Urban Agenda, and they had speaking rights within the U.N. Assembly discussions at Quito, at meetings which are closed to the general public. The New Urban Agenda is lofty; it includes commitments to promote full and productive employment for all urban residents, ensure sustainable land use, provide clean energy and address discrimination of women and girls, refugees, and disabled persons, in cities around the world. Signatories of the NUA agreed to rethink the way we plan, finance, develop, govern and manage cities, recognizing the importance of urban areas in creating a sustainable future for the planet. Urban agglomeration benefits, such as innovation, competitiveness, diversity and creative use of space, were recommended as tools for leveraging sustainable development.
As AIA President Russell A. Davidson, FAIA, explains in a recent blog post about his participation in Habitat III, many of the elements of the New Urban Agenda have long been a priority for development in the United States, and are already incorporated into the public policies of the AIA. Despite these goals, architects and planners around the world struggle to finance and implement sustainable planning, design and construction practices. We have a tremendous amount of influence on the built urban environment, and in many cases we have the skills needed to solve challenges defined within the New Urban Agenda, such as planning for climate change, providing adequate housing for all urban residents, designing sustainable urban transportation and designing and maintaining adequate and environmentally sensitive infrastructure services in cities. At Beyer Blinder Belle, there is a clear opportunity to lead the way towards implementing components of the New Urban Agenda. In the months following Habitat III the global community will be paying attention, looking for innovative, brilliant, urban solutions that take steps towards achieving this new, international agreement.