Colony Square Breaking Ground October 10th
October 02, 2017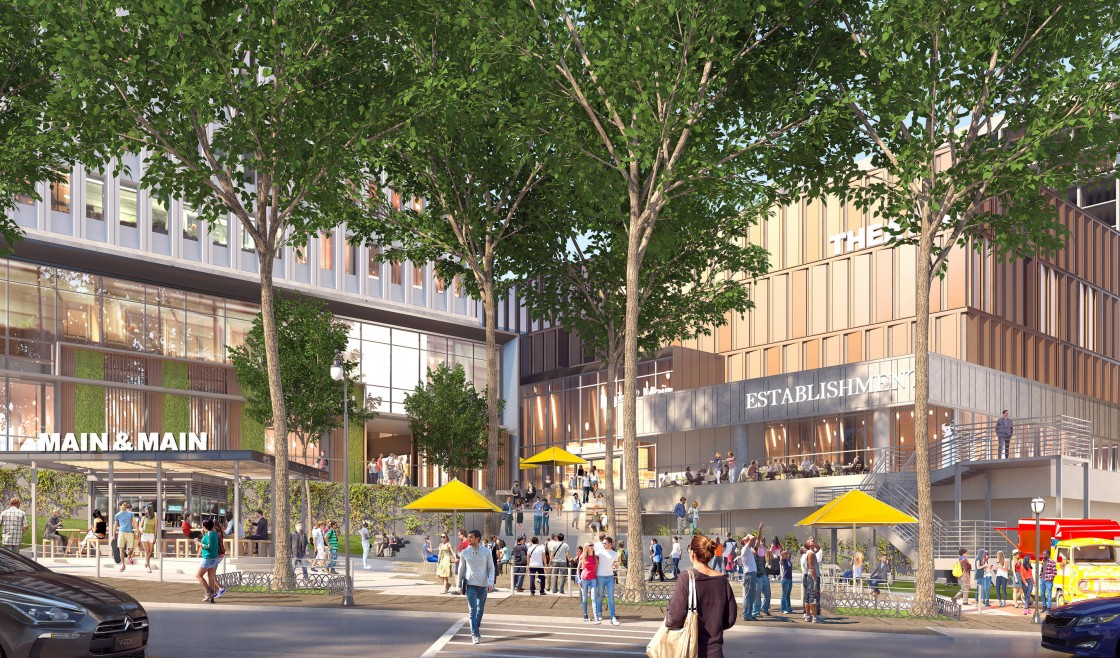 The reinvention of Colony Square – Atlanta's first mixed-use development – is scheduled to break ground October 10th. The iconic mid-century modern complex, originally constructed in the early 1970s, is undergoing transformation into a vibrant commercial, retail, residential and cultural destination in the heart of Midtown.
Conceived in close collaboration with North American Properties, BBB's design will convert the current enclosed mall into a central open-air plaza (above image). A new glass-and-metal addition will contain a food hall and a movie theater. At the same time, the retail in existing office buildings will be extended out to both the street and the plaza to create a vibrant urban setting and dynamic pedestrian experience (below image).
Learn more in Colony Square's press release, below:
ATLANTA (Sept. 26, 2017) – North American Properties invites the community to celebrate the groundbreaking of the reimagined Colony Square on Oct. 10 from 3 to 5 p.m. The phased redevelopment will transform the iconic mixed-use community at the heart of Midtown Atlanta into an urban entertainment and dining destination infused with art, cultural experiences, events and street-level energy.

Starting at 3 p.m., the community is invited to enjoy food inspired by local chefs, including fare from Sukoshi and Donetto by restaurateur and chef-curator of Colony Square's food hall Steve Palmer; cocktails by Sunshine Alchemy and mixologists from Establishment; music and entertainment by Mia Green Band; and speeches by Mayor Kasim Reed, president and CEO of Midtown Alliance Kevin Green, managing partner at North American Properties Mark Toro, partner and vice president of development at North American Properties John Kelley, and managing partner of Indigo Road Hospitality Group Steve Palmer. The groundbreaking event will also include the demolition of building 500 (yes, there will be a wrecking ball!). Additionally, virtual reality will be available for guests to virtually walk through and experience the reimagined Colony Square.

"This is a meaningful moment for our city," said Kevin Green, president and CEO of Midtown Alliance. "This day begins Colony Square's physical transformation into a central gathering place for our community - a true destination, rich with experiences, energy, events and entertainment. This has been a long time coming, and we are excited to celebrate with the community as we all watch this landmark project unfold."

Today, Colony Square has 163,000 square feet of dated retail space and 720,000 square feet of office space. In addition to enhanced restaurant and retail space, the redevelopment will add 204,000 square feet of new office space. Upon completion, Colony Square will encompass more than 40,000 square feet of open community gathering places, 143,000 square feet of entertainment, retail and fitness concepts, chef-driven restaurants, including Main & Main, the 28,000-square-foot experiential food hall, and 924,000 square feet of office space.

The first phase, opening July 4, 2018, the 50th anniversary of Colony Square's original groundbreaking, will include street-level restaurants and retail wrapping the 100 building. The second phase, opening March 14, 2019, will feature street-level restaurants wrapping the 400 building. The third phase, opening Nov. 21, 2019, will include a luxury movie theater, Main & Main, modern office space and a curated collection of fitness concepts.

"After months of gathering community feedback, researching best-in-class urban design, entertainment and restaurant concepts and carefully curating every detail, we are thrilled to celebrate this historic milestone at Colony Square," said Toro. "We thank the community for its active engagement and enthusiasm, and we look forward to bringing our shared vision to life."

Cushman & Wakefield handles office leasing for Colony Square. Hoar is the general contractor. Atlanta-based Lord Aeck Sargent is the architect of record and New York City-based Beyer Blinder Belle is the lead design firm. Site Solutions is the landscape and hardscape architect. Kimley-Horn is the civil engineer.
Print Story
More Stories About
Search by Keyword