Preservation Leadership Award for Founding Partner John Beyer
May 18, 2018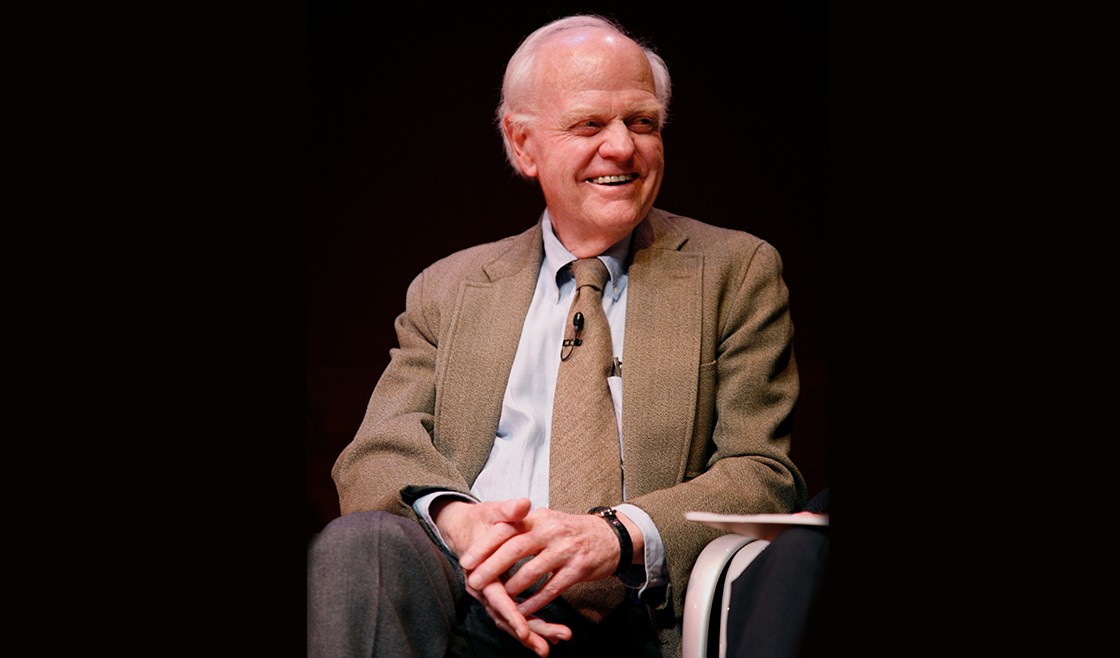 On May 8th, Founding Partner John Beyer ("Jack") accepted the 2018 Lucy G. Moses Preservation Leadership Award from The New York Landmarks Conservancy. The honor coincides with 50 years of BBB's practice, which has paralleled and been greatly influenced by the preservation movement in New York City.
Below, we share Conservancy President Peg Breen's introduction and Jack's remarks at the Moses Awards Ceremony:
Introductory remarks by Peg Breen, President, New York Landmarks Conservancy
And now…our Preservation Leadership Award. This year's winner started out as a sculptor and was a percussionist on the side. But Jack Beyer changed course, studied architecture at Harvard, and made preservation history instead.

Jack joined his late partners John Belle and Richard Blinder to form Beyer Blinder Belle. The firm became the gold standard for preservation. BBB has earned more than 100 awards, including 3 presidential medals and numerous Lucys.

It's celebrating its 50th anniversary.

Jack has been lead designer and partner in charge on many of the firm's blockbuster projects. These include the Metropolitan Museum of Art, South Street Seaport Museum, Temple Emanu-el, Rockefeller Center, Henri Bendel, and The Met Breuer.

At Grand Central Terminal, a signature projects, Jack collaborated with John Belle. He designed retail spaces and the new market building. He also planned circulation patterns. The firm continues to work at the Terminal.

Jack met his partners when they were all working in a shop known for designing shopping malls. The young architects found a different focus.

Jane Jacobs was an early client and an influence. Even then, BBB championed the restoration and reuse of older buildings. They rehabbed tenements for affordable housing in the Bronx. "other architects back then thought we were crazy," Jack once told an interviewer.

Jack forged the firm's commitment to contextual solutions to architecture and planning. He's known for the sensitive design of new buildings in historic settings. Jack has said he wanted to "inspire people to enhance the public realm." He continues to inspire colleagues at Beyer Blinder Belle. Few have enhanced our city more than he has.

It is an honor for the conservancy to give Jack Beyer a Lucy Moses Leadership Award. Please welcome Jack Beyer.
Remarks by Jack Beyer:
Thank you, Peg.

I am honored to be chosen for this coveted award and lucky to be following in the footsteps of my two late partners: James Marston Fitch and John Belle.

Jimmy received the Preservation Leadership Award in 1991 for his remarkable career as the father of historic preservation, having created the first professional degree program of Historic Preservation at Columbia in 1964 and, after his retiring there; joining BBB in 1980 – thought of as quite a coup by our many competitors.

John received the award in 2012 for his well-known accomplishments and giving clients the confidence to entrust their most precious icons with him for restoration and often adaptive reuses – GCT, Ellis Island, U.S. Capitol, and many others.

As some of you know, we are celebrating our 50th Year of Practice this year; a career paralleling, and greatly influenced by, the Preservation movement in NYC.

Starting in 1965 with the creation of the Landmarks Preservation Law and the Landmarks Preservation Commission after the demolition of Penn Station.

Then in 1972, the founding of the Conservancy; the vigilant steward of our landmarks and districts. By helping to protect them and giving them new life, they have enhanced the lives of countless New Yorkers – a mission that is closely aligned with my own practice.

It's heartening to see little, if any, change to our mission since our founding in September 1968 – a time when New York was in the wake of urban renewal – where the physical and social fabric of our cities and communities were being threatened.

We defined a different approach to design that focused on conservation and architecture empowering people in urban settings – their interaction with each other on streets and in neighborhoods and buildings.

With this approach, we focused our skills on planning, architecture and preservation equally; for us, they are inseparable.

This has created an open and collaborative work ethic, where diverse teams of planners, architects and preservationists contribute to the design process side by side.

The images of our work, that Peg just showed us, are the results of this collaboration, where many talents – young and not so young – participate.

I want to thank those of you who are here tonight, including BBB alums and many others for contributing to our work over these many years – you have expanded the relevance, the capabilities and the quality of the entire firm – beyond the wildest dreams of Dick Blinder, John Belle and me.

And how about my family, putting up with me those 50 years – Wendy, my wife, for her undying optimism and British wit – and Kay and Charles, two of our five, far flung kids who could be here tonight and with their spouses.

I can envision in a beautiful, historic space such as this, a fourth partner of BBB – perhaps one of you – accepting the Lucy G. Moses Leadership Award – or doing what we all do, in our own small way, every day, – what Jimmy Fitch called, in his studiously crafted words – "the Curatorial Management of the Built Environment."

Thank you.

Print Story
More Stories About