Baltimore's Palace of Learning Revitalized
Crowds Celebrate Enoch Pratt Free Library's Grand Reopening
September 16, 2019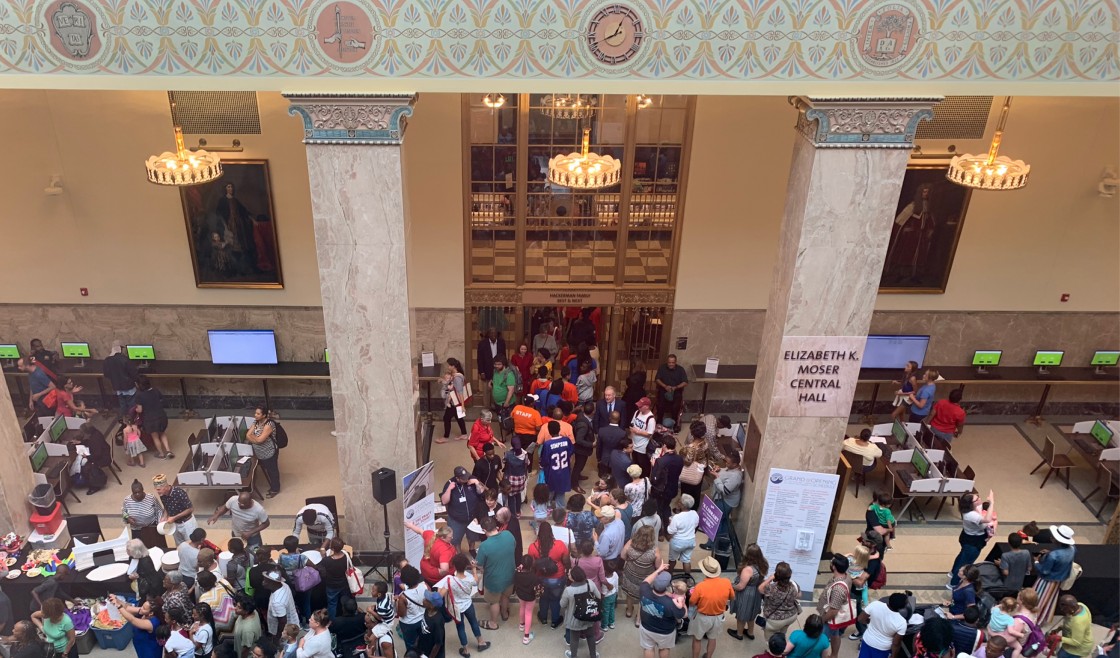 "It's been a privilege to lead the renovation of this extraordinary and important building. We see design as a process, not a product. Our work on the Enoch Pratt Free Library allows for the evolution of the institution by sensitively integrating both new infrastructure and new programmatic elements into the historic shell of the building. These improvements will add value to the city of Baltimore and its residents now and in the future."
Elizabeth R. Leber, AIA, LEED AP, Partner
A day of festivities marked the grand reopening of the Enoch Pratt Free Library on Saturday, September 14. BBB's project team joined the Pratt's CEO and President Heidi Daniel, Baltimore Mayor Jack Young, Sen. Ben Cardin, Sen. Chris Van Hollen, Sen. Barbara Mikulski, and more than eight thousand revelers for an open house and block party celebrating the restoration and revitalization of the beloved Art Deco masterpiece.
BBB's renovation of the Enoch Pratt Free Library integrates state-of-the-art digital technology and mechanical systems while preserving the character of the historic main branch of the Maryland State Library system. Throughout the building, historic materials, finishes, and light fixtures are restored. The grand Central Hall has been converted into a multi-purpose presentation space for public events, while a new Teen Wing, Creative Arts Center, and Job and Career Center opened their doors to the public for the first time.
In addition to Beyer Blinder Belle (lead architect), Ayers Saint Gross (managing architect), and Sandra Vicchio Associates (consulting architect), the EPFL project team includes Gilbane Building Company (construction management) and EverGreene Architectural Arts (decorative restoration and preservation).
Watch and listen to these videos and podcast, which capture the spirit and energy of this momentous project:
In this video from the Pratt, Library CEO and President Heidi Daniel and state leaders including Sen. Barbara A. Mikulski and University of Baltimore president Kurt Schmoke weigh in on the importance of the library in the community.
The "Pratt Restoration Series" showcases the restored building's architectural details.
BBB architect and senior project manager Jean Campbell spoke with the Pratt's CEO and President Heidi Daniel and host Tom Hall in the WYPR podcast Live At The Enoch Pratt Free Library: A Historic Renovation, sharing insight and anecdotes from the restoration.
Below is a selection of recent press coverage:
AN INTERIOR, Reprogramming Historic Spaces, By Gabrielle Golenda
Building Design+Construction, The $115 million renovation of Baltimore's Enoch Pratt Free Library completes, By David Malone
Baltimore CityBizList, Pratt Central Celebrates Reopening After Historic $115 Million Restoration
Baltimore Sun, 'This is amazing!' Thousands pack Baltimore's Enoch Pratt Central Library after massive renovation, By Jonathan M. Pitts
Baltimore Sun, Baltimore's Pratt Central Library emerges from renovation with its beauties intact, By Jacques Kelly
Baltimore Business Journal, Enoch Pratt Central Library debuts 3-year, $115M renovation (PHOTOS), By Carley Milligan
WBAL-TV 11 News, Enoch Pratt Free Library hosting block party for reopening, By Jennifer Franciotti
Read the Press Release and Restoration Fact Sheet.
Print Story
More Stories About
Search by Keyword