Dale Jones Burch Neighborhood Center at Henry Street Settlement Opens
November 06, 2019
On October 23, a festive ribbon-cutting marked the opening of Dale Jones Burch Neighborhood Center in a restored historic firehouse at 269 Henry Street. Founded in 1893 by reformer Lillian Wald, Henry Street Settlement provides social service, arts, and health care programs to more than 50,000 New Yorkers annually at 17 sites on the Lower East Side, now joined by the Dale Jones Burch Neighborhood Center. BBB converted the 4-story 19th century firehouse designed by Napoleon LeBrun into a vital new facility offering a range of essential community services, an on-site parent center, and a ground-floor community room.
BBB's project team joined community leaders and project donors along with members of Engine 15 in an outdoor celebration marking the occasion.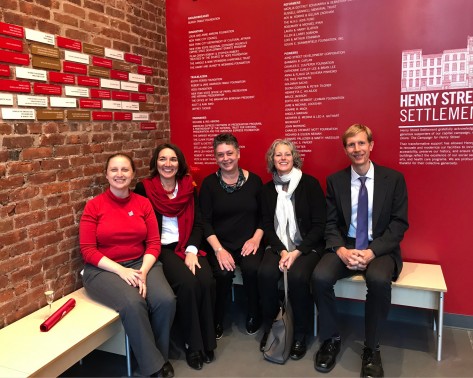 Below is a selection of recent press coverage:
Untapped Cities, 19th-Century Firehouse Gets New Life as a Community Center, By Nicole Saraniero
The Villager, Henry Street Settlement on Lower East Side cuts ribbon for new center, By Gabe Herman
Patch, LES Firehouse Remade Into Community Center On Henry Street, By Sydney Pereira
The Lo-Down, Henry Street Settlement Debuts Neighborhood Center in Historic Firehouse Building
Bowery Boogie, Henry Street Settlement Unveils New Community Center in Historic Firehouse, By Elie Z. Perler
Bowery Boogie, This 135-Year-Old LES Firehouse is Now a Resource Center for the Henry Street Settlement, By Elie Z. Perler
Read more in the Press Release from the New York State Governor's Press Office.
Print Story
More Stories About