745 Homes, 3 Buildings, 1 Team
Greenpoint Landing's New Mixed-Income Residential Buildings Reach New Heights
May 14, 2021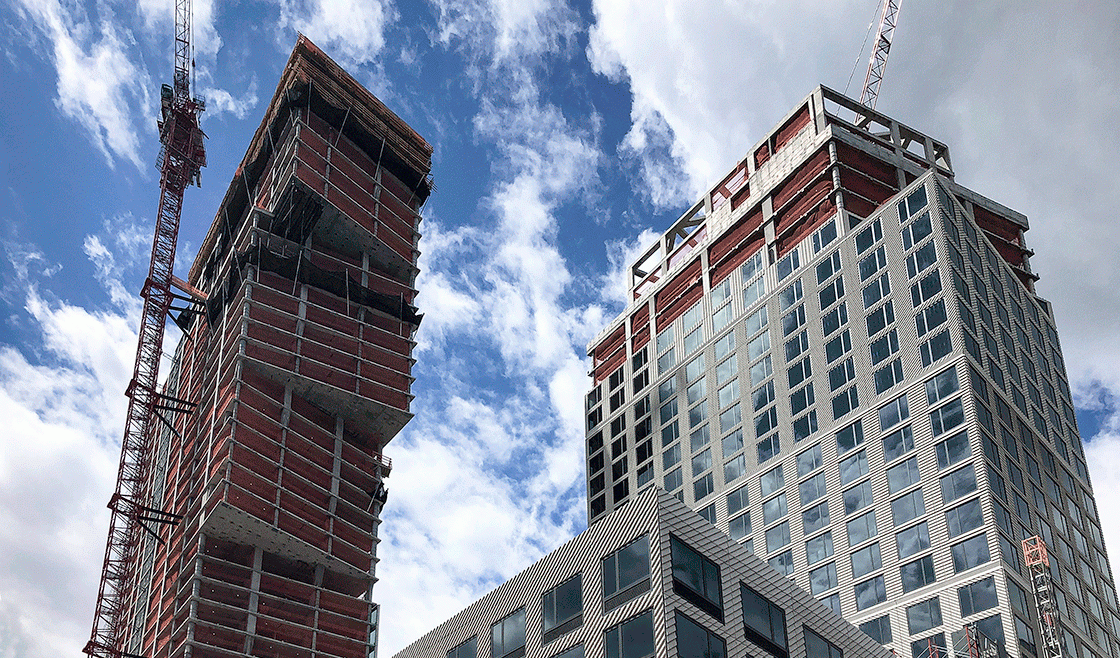 With the 400-foot tall D1 Tower reaching its peak, the project team paused to celebrate a major project milestone.
Comprising a pair of residential towers and a 7-story mixed-use podium, the latest phase of the Greenpoint Landing development will bring amenity-rich housing, 8,600 square feet of ground floor retail, and more than an acre of new public space to northwestern Brooklyn's waterfront. BBB is serving as the project's executive architect and as unit interior designer for the development's 745 units, 30% of which are below market-rate. Throughout the project, BBB has worked in close collaboration with design architect OMA and an incredible group of engineers, landscape designers, and other design specialists—a team of 165 total design collaborators.
Recently, members of the design and construction teams gathered with client Brookfield Properties to celebrate the topping out of the 850,844-square foot project. "Topping out" historically refers to the placement of a final beam atop a new timber frame building. Today, project teams deploying a wide variety of construction methods continue this ancient Scandinavian tradition, sometimes ceremonially adding a small tree to the building's peak in honor of the timber previously uprooted for construction purposes.
"While precast concrete panels are a far cry from timber beams, the significance of this project milestone remains," shared BBB Partner and Director of Construction Administration Carlos Cardoso. "BBB extends its gratitude to the project's general contractor, New Line Structures, and to the superstructure contractor, Highbury Concrete, and to all of the individual team members bringing this project to life."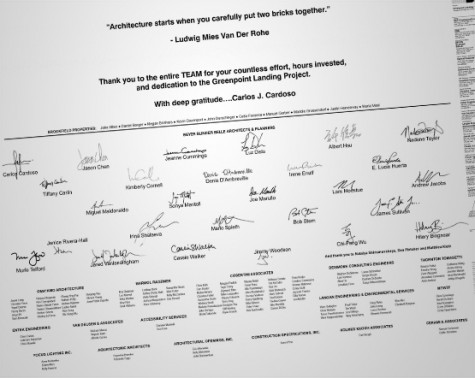 BBB Principals Andrew Jacobs and Cassie Walker joined Carlos in sharing their appreciation for the project team and offered particular thanks to their BBB colleagues—Hilary Bingnear, Brandon Brooks, Tiffany Carlin, Kimberly Cornell, Denis D'Ambreville, Irene Enulf, Miguel Maldonado, Sonya Mantell, Joe Marullo, Lars Moestue, Felix Scull, Marlo Spieth, Bob Stern, James Sullivan, Nadene Taylor, Jared Vanlandingham, and Chi-Feng Wu—all of whom have demonstrated ingenuity and a deep commitment to collaboration throughout the project.
They also thanked former BBB staff members that contributed to the project, including Jason Chen, Jeanne Cummings, Luz Disla, Daniel Fletcher, Albert Hsu, E. Lucy Huerta, Matthieu Klein, Steve McCarthy, Janice Rivera-Hall, Irina Shalaeva, Natalya Shimanovskaya, and Murle Telford.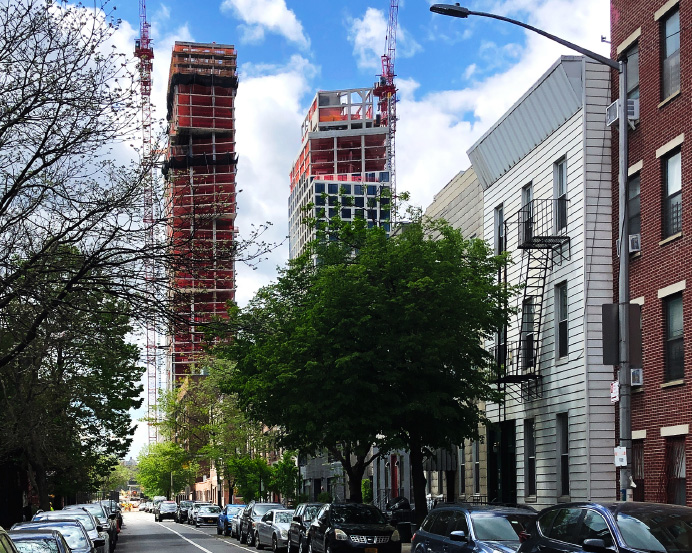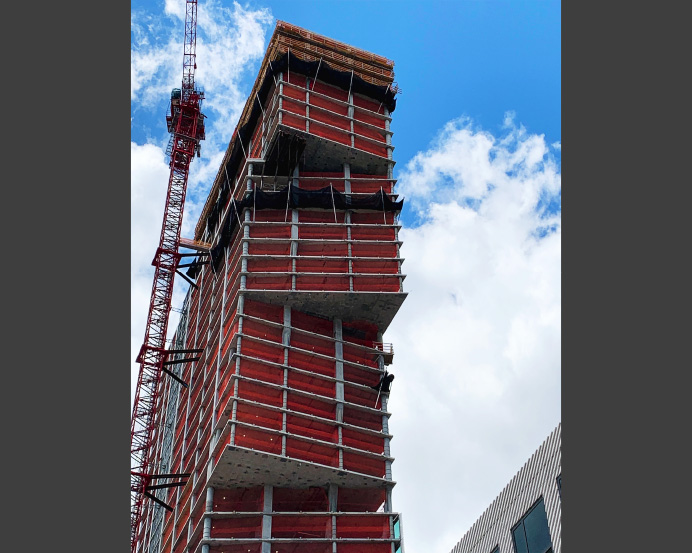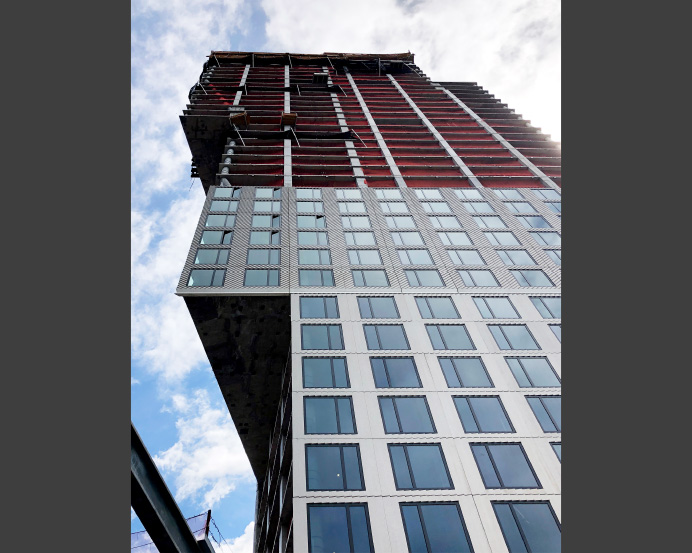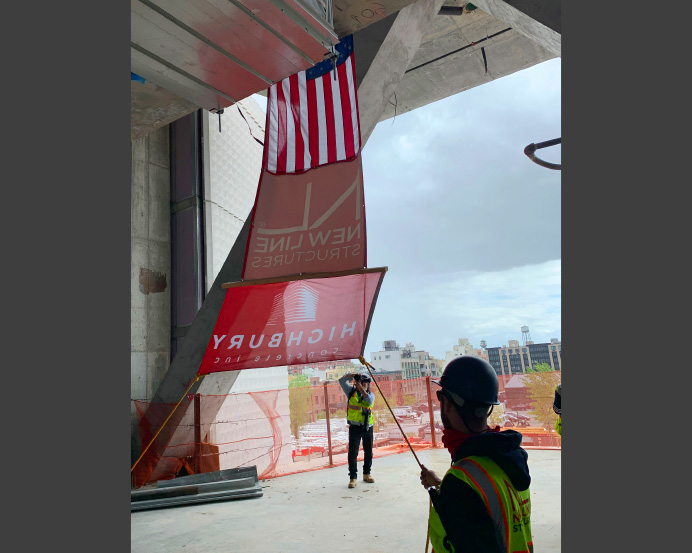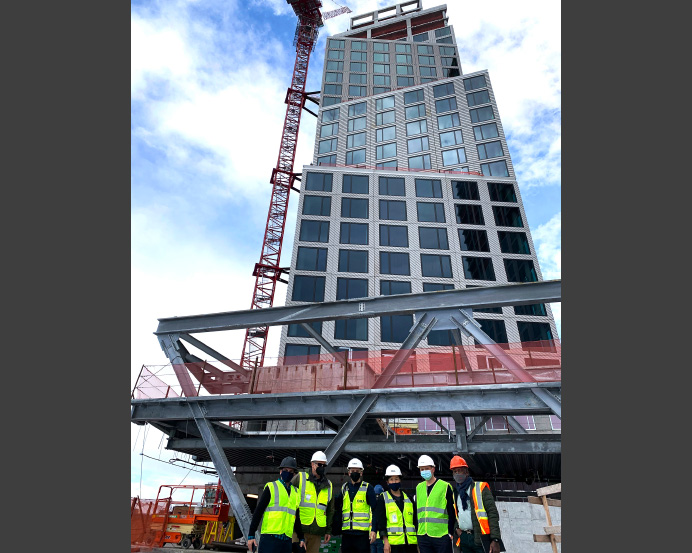 A selection of photos from the Topping Out event for the D1 Tower are shared above. Visit Field Condition and New York YIMBY for additional views of Greenpoint Landing, including recent shots from this phase of the development. This exciting project is expected to open in spring 2022.
Print Story
More Stories About
Search by Keyword