In Construction: MIT Building E52
Construction highlights at re-opened building
January 22, 2016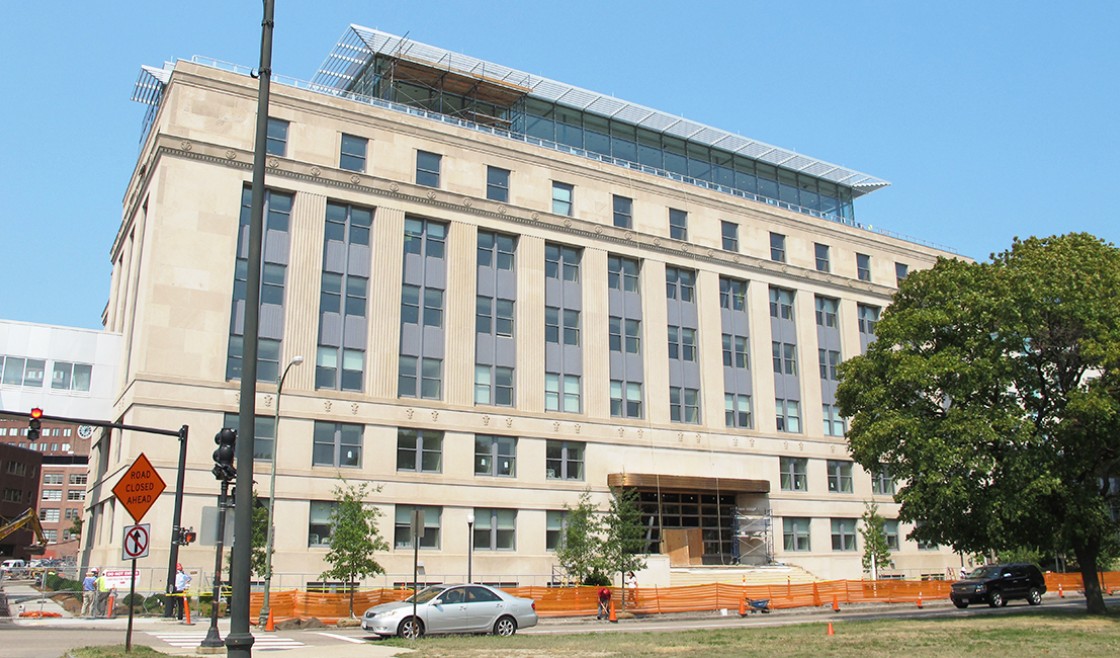 In our second installment of "In Construction," a new series that explores behind-the-scenes building technologies and methods, we take a look at the Building E52 at Massachusetts Institute of Technology and three unique aspects of the project: adding a new conference room on top of the building, using mast climbers to clean the facade, and creating a parametrically modified wall panel system. Faculty have moved in this month, and classes will be held at the start of the spring semester.
---
Building Up
E52's roof slab and all the structure above it were removed in order to facilitate a new and expanded conference center on top of the existing building. The concrete columns were cut at a consistent elevation and the new steel structure was installed above to raise the ceiling of the 6th floor conference center.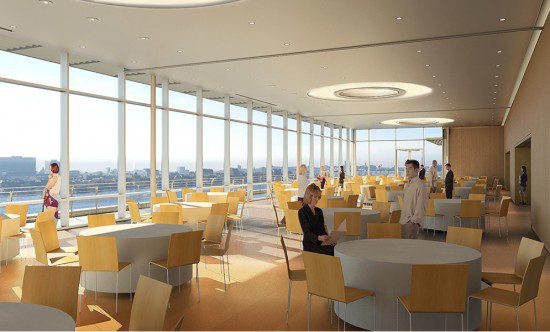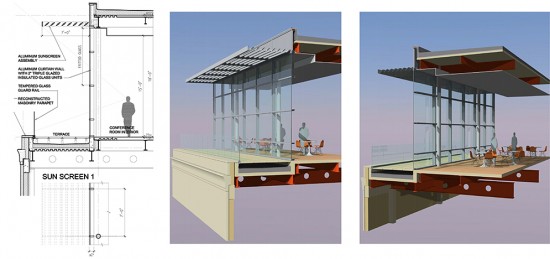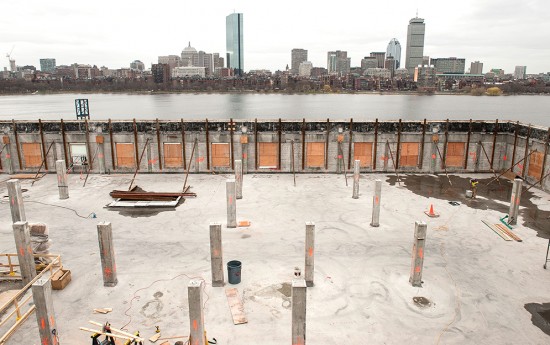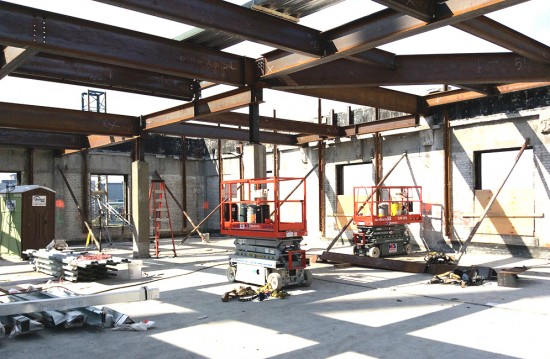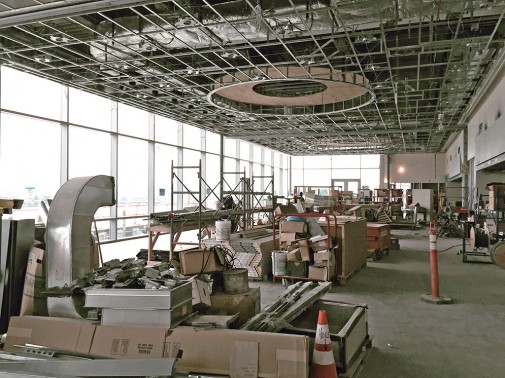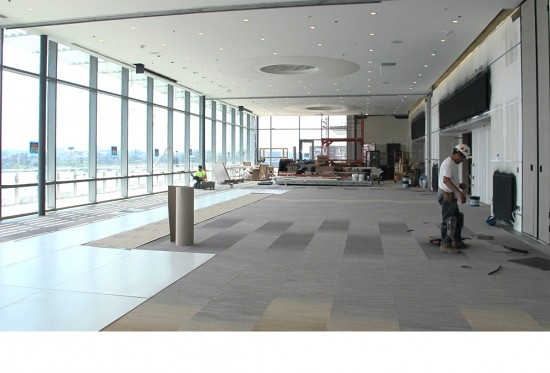 Facade Restoration
The existing limestone facade dating from 1938 required extensive cleaning and repair. To remove salts from the stone, the surface was lightly misted with water and then scrubbed with a natural bristle brush. Mast climbers were used instead of traditional scaffolding, enabling workers to easily access the facade via a moving platform.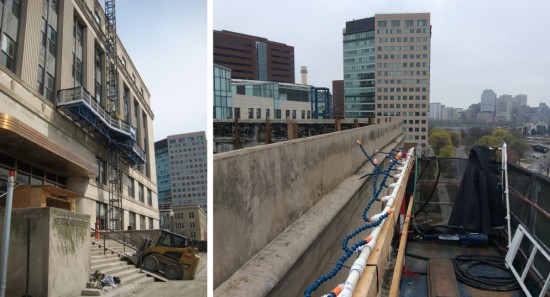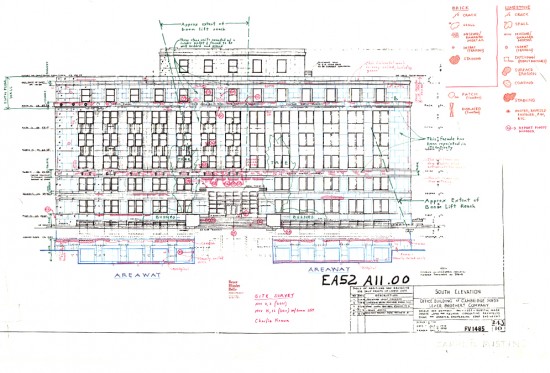 Slat Walls
To distinguish each of the seven elevator lobbies, a vocabulary of varied wood slat wall panels was developed. Grasshopper software was used to modify the cant of slats parametrically and create discernible patterns. The pattern on the first floor is the simplest, with uniform depth slats, and becomes more articulated as one rises in the building, culminating in more sculptural designs on the upper conference floors.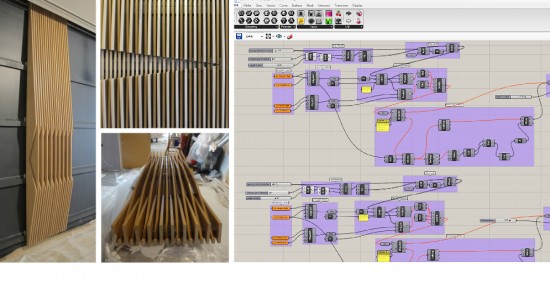 ---
More about MIT Building E52…
BBB renovated and designed an addition for Building E52 at MIT, a 6-story building prominently located on the Charles River that will be a new home for the Department of Economics and administrative suites for the Sloan School of Management. A new glass-enclosed rooftop conference center with sweeping views of the Boston skyline accommodates 700 people and features technology, acoustics, movable partitions, and furniture that allow for maximum flexibility. BBB's design uses daylight, glass, and new communicating stairs to create clear circulation routes within the deep floor plate.
BBB Team

Isabella Chen

Erik Chu

Conrad Gartz

Erin Hynes

Aaron Lamport

Steve McCarthy

Lars Moestue

Katya Piterman

Michael Rozas

Nico Zhou
Location Cambridge, MA

Size 155,000 SF

Completion Date Targeted 2016

Construction Cost $56 million

Certification Targeted LEED Gold

Contractor Consigli Construction Company
Print Story
More Stories About
Search by Keyword