VIDEO | Equity, Diversity, Inclusion
Open Channel's 2020 Discussion Series
October 07, 2020
BBB's Open Channel Initiative & AIA Northern Virginia's Women in Architecture Committee have partnered to host a series of panel discussions on what firms are currently doing to be more equitable, diverse, and inclusive, and how current practices can improve and grow.
Open Channel is a staff-initiated group open to all BBB staff, and strives to support, improve, and promote equity, diversity, and inclusion. In looking to make this initiative more robust, BBB reached out to other firms to see what they are doing, and quickly learned that many firms are grappling with the same issues. BBB decided to partner with WIA for a public series that would allow for in-depth discussion of equity, diversity, and inclusion.
"When we started planning this a year ago, we thought it would just be a one-time lunch with a few other firms to talk about our EDI initiatives. We are thrilled that this grew into a much larger discussion and that, because we are virtual, we can now include people across the country," said Principal Jennie Gwin, who worked on organizing the events.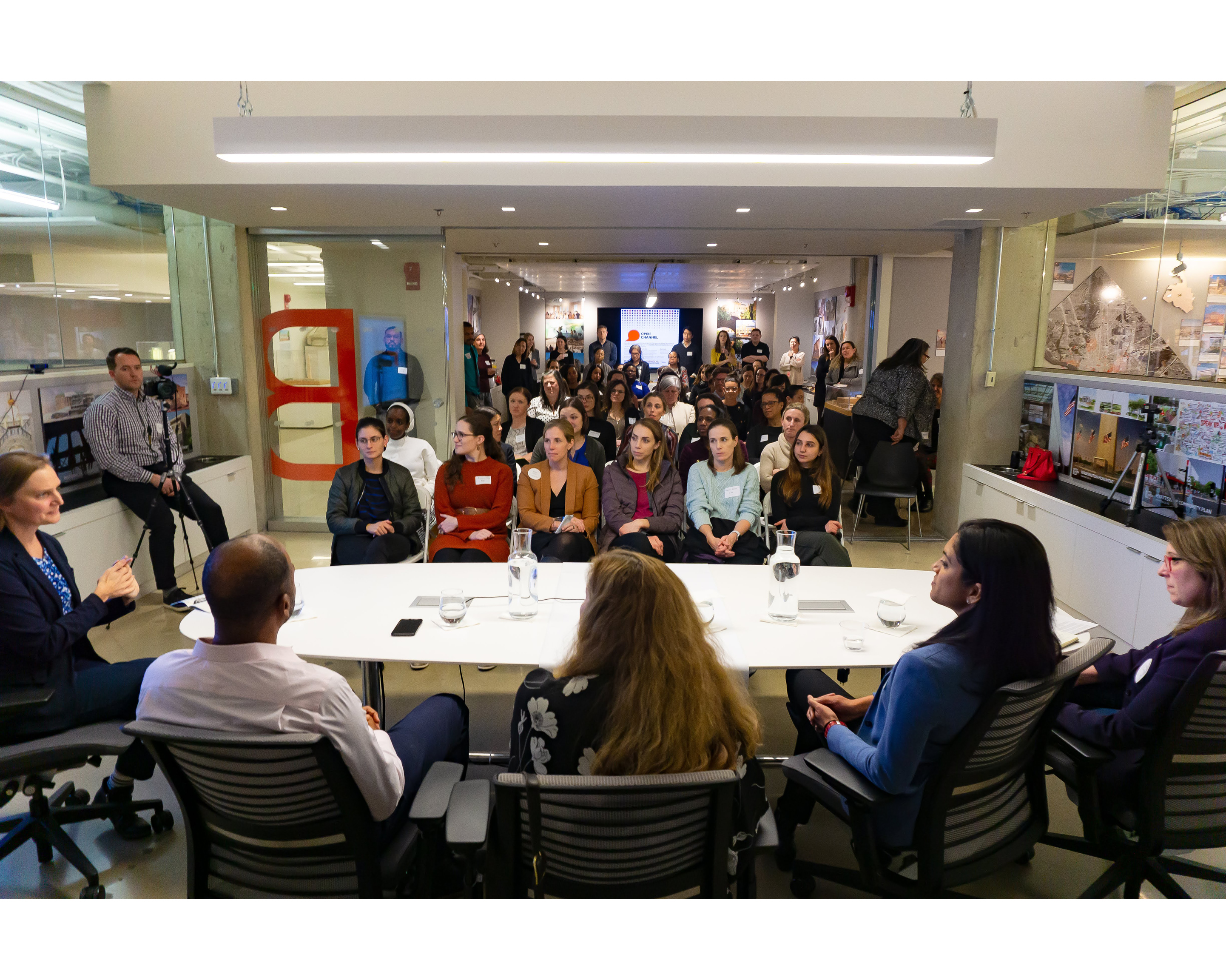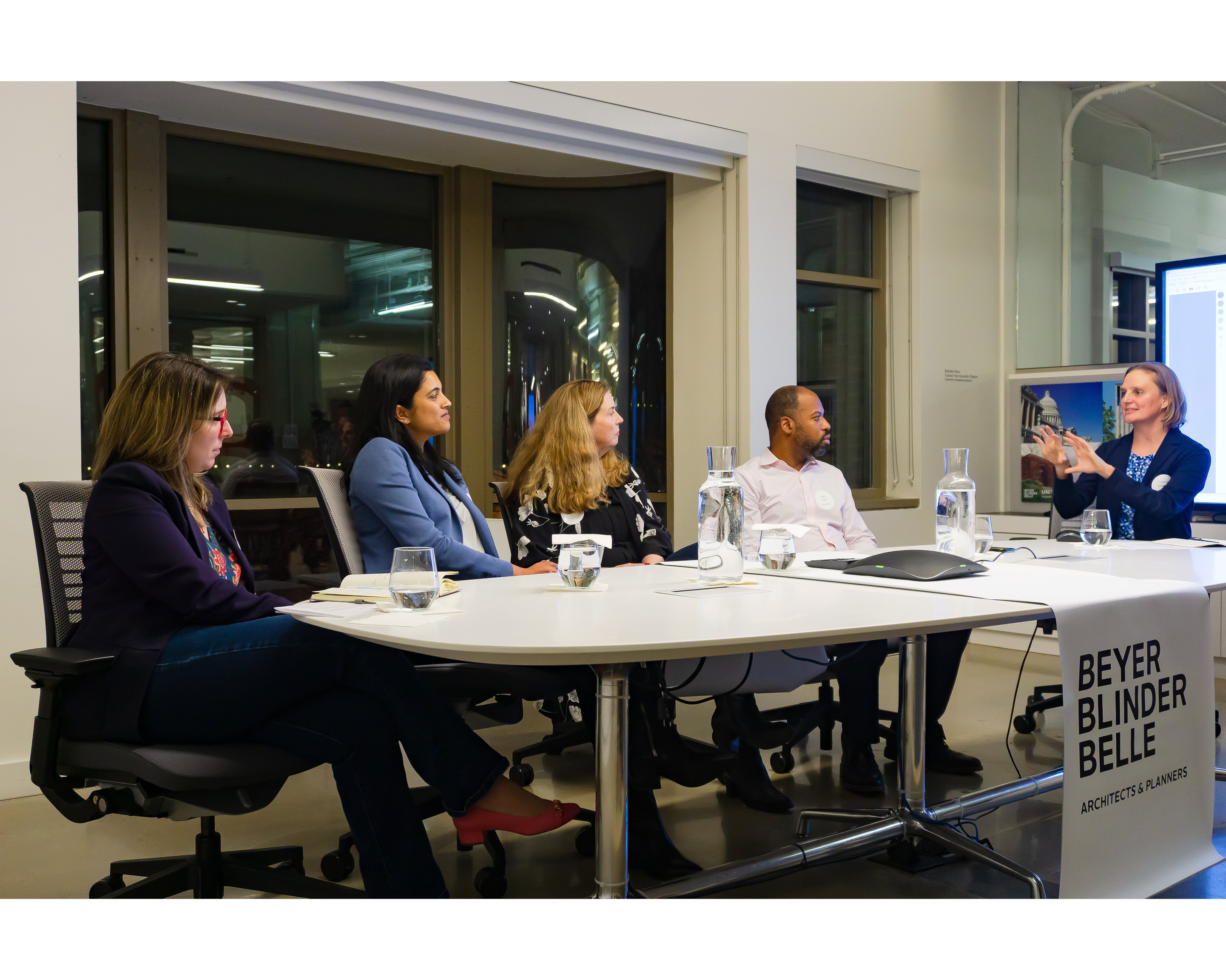 The first panel event in the Equity, Diversity, and Inclusion series was held at the BBB DC office on February 26. That panel was moderated by BBB's Carmen Menocal, and included panelists from Gensler, HGA, Perkins Eastman, and Perkins + Will for a discussion of the origins and implementation of their firmwide EDI programs. The conversation was very honest and open with a consensus among the panel that people and not policies are responsible for fostering inclusive workplaces. Firm approaches varied from a long-term relationship with a consultant to start and maintain a robust EDI program to staff-lead working groups. Read more here.

The second panel discussion, originally scheduled for March, was postponed due to the pandemic and held virtually on July 22, 2020. BBB's Scott Archer moderated and Jennie Gwin hosted the live discussion focused on Diversity and Inclusion in Recruiting, Marketing & Mentoring, which featured representatives from CannonDesign, Ayers Saint Gross, Michael Marshall Design, and Virginia Tech Washington-Alexandria Architecture Center. Read more about the panelists here.
Following the killing of George Floyd and this year's rapid expansion of conversation surrounding equity for Black Americans, the panel was held at a time when many architecture firms are looking for substantive ways to improve diversity in the profession. Many of the panelists commented on the uniqueness of this moment in time for young architects to achieve a lasting and substantive change in the profession.
Michael Marshall (Michael Marshall Design) emphasized the global importance of diversity now as rapid urbanization is bringing together more diverse cultures. The panelists discussed methods to increase diversity in the profession that ranged from mentorships to an institutional rating system for architecture firms, monitored by the AIA, that would establish good standing in achieving diversity and inclusion.
Panelist Gina Fernandez (Ayers Saint Gross) challenged firms to create an environment that encourages and allows people to bring their authentic self to work everyday. The panel discussed the challenges that minorities face at all stages in their education and professional lives and talked about the role of mentorship in school and early years of the profession. Multiple panelists highlighted the critical role of local AIA chapters in supporting the growth of early and mid-career professionals. Bonike Akinsanya (CannonDesign) spoke about the importance of reaching within to change organizations and reaching out to students and young talent, and Susan Piedmont-Palladino (Virginia Tech Washington-Alexandria Architecture Center) discussed strategies to open doors into academia and connect students with mentors in the profession.
Transitioning the EDI series online eliminated organizational expenses, allowing WIA to donate all sponsorships and previously received registrations totaling $2,500 to the Black Women in Architecture Network Desiree Cooper Memorial Scholarship administered by the National Organization of Minority Architects Foundation. Information about Desiree Cooper and the Scholarship in her memory can be found here.
The third panel in the series, held on September 30, was a discussion of the AIA Guides for Equitable Practice led by Yiselle Santos Rivera of HKS, who worked on the team that developed the Guide, and Emily Grandstaff­-Rice of Arrowstreet, Chair of the AIA Equity and the Future of Architecture Committee. The panel charted the creation of the AIA Guides for Equitable Practice, highlighting the work of Del Ruff, Senior Director of Workforce and Education for the American Institute of Architects. Read more here.