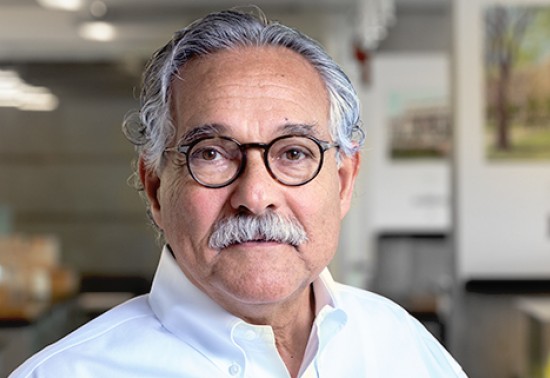 "Respecting the past doesn't mean admiring it to the point of replication. My goal is to transform historic buildings for modern and relevant use while maintaining the essence of their original character."
In 2019 & 2020, Hany Hassan received three major recognitions:

1. Hany received the 2019 Centennial Medal for AIA|DC
2. AIA|DC named Hany as a Giant of Washington Architecture
3. Hany was featured in a profile by Washingtonian Magazine

Over the course of 40 years of practice, Hany Hassan has served as a passionate steward of our cultural heritage through the revitalization of historic buildings and sites of civic importance. A native of Cairo, Hany has long been inspired by the architectural icons of Egypt for their simplicity, strength, power, and for their absence of ornamentation. His work is characterized by simple yet bold contemporary interventions that respect the original building through a harmony of proportion, scale, and character.
As Director of Beyer Blinder Belle's Washington DC office, Hany has worked on significant public architecture projects that positively shape the nation's capital. He believes that the most successful and rewarding civic projects balance the highest level of creativity with public input. Guided by personal conviction and exceptional communication skills, Hany articulates his ideas with poise and uncommon ease, engendering collaboration and consensus. His prolific hand sketches, renderings and watercolors – many of which are works of art in their own right – provide a valuable tool in enabling clients and stakeholders to better visualize and understand a project's design.
Hany's expertise spans architectural and urban design for new construction and the renovation of historic structures. His clients include the US Department of State, the Architect of the Capitol, the General Services Administration, the DC Courts, the National Park Service, the Maryland State Archives, the DC Office of Planning, the Smithsonian Institution, the National Gallery of Art, and the Jewish Historical Society as well as many of metropolitan Washington's leading private developers. Hany's international experience includes major projects in Italy, the Czech Republic, Belgium, Saudi Arabia, Egypt, and Brazil.
Hany received his Bachelor of Architecture degree from Cairo University in Egypt. His academic experience includes teaching Design and Architecture at Cairo University in Egypt, lecturing at New York University for the Master's Program of Real Estate Development and Investment, and heading a housing research project for the Massachusetts Institute of Technology. He is a Board Member of the National Building Museum, National Peer for the General Services Administration's Design Excellence Program, former Board Member and Officer of the Washington Architectural Foundation, and Board Member of the DC Preservation League, where he also serves on the Project Review Committee. In 2019, Hany was awarded the Centennial Medal, the highest honor the American Institute of Architects DC Chapter can bestow upon a member.